The 7th Path® Self Hypnosis
Set Yourself Free on the The 7th Path®
The 7th Path® self hypnosis system is an insightful form of self-improvement that
incorporates the whole person – mind, body and spirit. It is an extremely powerful technique where you learn to re-focus yourself for success by eliminating limiting beliefs and erroneous programming.
•Imagine freeing yourself from all of the stress, negative programming and painful emotions from the past
•Imagine living in the moment and never overreacting again by getting too angry, frustrated, or sad
•Imagine being able to "program" yourself for success
It is especially easy to do, and you will be successful at achieving self-hypnosis from the very first session. Why? Because you learn 7th Path ® self hypnosis while in a natural state of hypnosis!
The 7th Path® is so effective because you utilize your own belief system. It can be practiced by those with spiritual beliefs, religious beliefs of any faith, or simply be based on the power of good and your own inner power to make the changes you so deeply desire.
And you do this in the privacy of your own mind!
Use the 7th Path® to take back control and live your life to your fullest potential:
Eliminate harmful habits and thought processes
Improve your relationships
Become more patient and confident
Improve study and test taking
Be a better parent
Build self confidence
Overcome fears
Better stress management
Increase motivation
Sleep deeply through the night
Practice gratitude
Better understanding of life and purpose
Willingness to forgive
Answer your calling in life
Connect to the core of you you really are
Bring your highest philosophies and beliefs into your everyday life
The 7th Path® works like a deprogramming device that removes old limiting beliefs and patterns. We call this process the "Emptying of the Cup."  During this phase of The 7th Path®, the system works like anti-virus software for the mind, ridding you of all erroneous programming from the past that is getting in the way of your happiness, success and feelings of confidence.
Once some cup-emptying has been accomplished, then you can use the system to make just about any kind of improvement that you want to make in your life.
It's easy to do because you only need to dedicate small amounts of time each morning and afternoon to the practice, as well as a short period of time before going to sleep. If you already meditate or pray, you will notice an immediate leap forward. It is a simple process that produces profound results.
You can learn the 7th Path® in individual one-on-one sessions or in classes with other students. The process generally follows this structure:
First receive an introduction to hypnosis, where you learn about hypnosis and the subconscious mind
Next you will learn all about how The 7th Path® system works and how you can "empty the cup"
Then you will get to learn how to induce hypnosis in yourself and give yourself the 7th Path® suggestions (which are called Recognitions)
At The FARE Hypnosis Center we build in plenty of time to ask questions and practice your new skills.
The 7th Path® system was developed by Calvin D. Banyan, MA, a Board Certified Hypnotherapist. It was through conducting thousands of hours of sessions that Cal developed this very special form of self-hypnosis. He noticed that there were similar insights that his clients consistently made when they made the changes that they wanted to make. These insights are contained in the 7th Path™ System. It is also influenced by The Course In Miracles, Cal's study of psychology and hypnosis, as well as spiritual practices such as Ascension.
You enroll in the classes for either:
–  evening sessions (a series over 3 weeks for about 1.5 hours each session) or
–  weekend (1 afternoon)
Classes are in 2 parts: Basic (emptying the cup – working out all your 'stuff') and Advanced (Filling the cup – allowing everything you want and need).  Needless to say, the Basic class comes before the Advanced so there is room for all the wonderful things you want in life.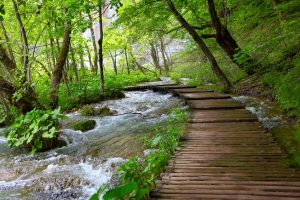 The 7th Path®  Self Hypnosis 2017 Class Schedule
Basic and Advanced classes are $225 each
Basic Class –  Recognitions 1 through 5
January 7                              Saturday         12:30 – 4:00pm
March 15, 22, 19                   Evenings (3)     6 – 7:30pm
July 29                                   Saturday          12:30 – 4:00pm
Advanced Class – Recognitions 1 through 9
March 11                                Saturday         12:30 – 3:30pm
June 10                                  Saturday         12:30 – 3:30pm
September 23                        Saturday          12:30 – 3:30pm
December 5, 12, 19               Evenings (3)     6 – 7:30pm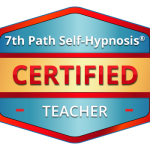 click here for info on this badge