Hypnosis Training for the New Hypnotist
The best hypnosis training certification for those who want
to be the very best hypnotists!
At the FARE Hypnosis Center we do not look for 'bodies in the room' for our classes. We want students who want to make a difference in their own lives and the lives of others – students who want to put in the time and effort of study and practice. Our objective is to help our students blossom and grow into some of the best full- time hypnotists to ever practice, and for them to be proud of where they received their training.
We Offer 3 Options for Hypnosis Training Certification for New Hypnotists
Plan Ahead – Courses Start Soon!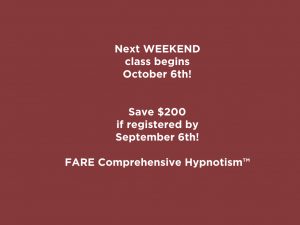 This course is best suited for those wanting a basic education for an Ericksonian style practice, and medical professionals in an office, hospital or emergency first responders. We offer weekend classes for certification through the National Guild of Hypnotists and include special training for pain management.
Course starts on:
2018 – To be announced!
2)  5-PATH ® and 7th Path Self Hypnosis ®, NGH Certified
This course is designed to produce confident and competent hypnosis professionals who want to go into private practice or work in a center. This is a high quality, professional accelerated hypnosis training and certification program producing some of the best and most qualified hypnosis professionals in the field.
You will be credited with over 100 hours of training in 10 days. Upon graduation from this training program you will have earned Master Hypnotist Certification, 5-PATH® Hypnotist Certification, 7th Path Self-Hypnosis® Teacher Certification, and National Guild of Hypnotists Certification.

Course starts on:
2018 – To be announced!
3) FARE Comprehensive Hypnotism™, NGH Certified
This is the 'Cadillac' course for those who want to be as well rounded as possible in the profession. This course covers Ericksonian direct suggestion techniques, Elman hypnotic regression techniques, and an introduction to NLP. It includes these certifications and all courses offered by The FARE Hypnosis Center. 
100 hours over 10 days

Certification through the National Guild of Hypnotists as a Consulting Hypnotist

Certification through The FARE Hypnosis Center

Pain Management

Emotion Resolution Work™ 

Emotion Resolution Work™ 2.0 (at a later time after practicing with clients, see schedule, can be done online)

Past Life and Spirit Releasement

The Predictive Index Assessment – before classes begin
Next Course starts on:
Oct 6, 2017 (4 weekends)
Wondering if Hypnotism is the Right Profession for You?
We also offer our students the Predictive Index (PI), a behavioral assessment that provides an accurate depiction of your core drivers to give insight into your needs and behaviors. Scientifically valid, EEOC compliant, and 60 years of reliable results support the results helping you be confident you  have the right skills and temperament for the job. The Predictive Index helps you identify your natural behaviors and styles, how you engage with others, and how you respond to leadership dynamics. These insights allow you to work better with your clients and co-workers and develop the necessary skills to be a great hypnotist.
Contact us today if you:
Are seeking fulfillment in your life and career
Desire to help others
Easily develop a genuine rapport with others
Want to enhance a current career using hypnosis as a complementary skill
Hypnosis works if the clients truly want the change. The same is true for this class: If you want success, you will have every opportunity to achieve it through the FARE Hypnosis Center courses. Want it and watch it happen!
"Roberta knows her stuff! It is a comprehensive course and I recommend it to anyone." Roxann K.
Call Today 952-934-1315