Initial Consultation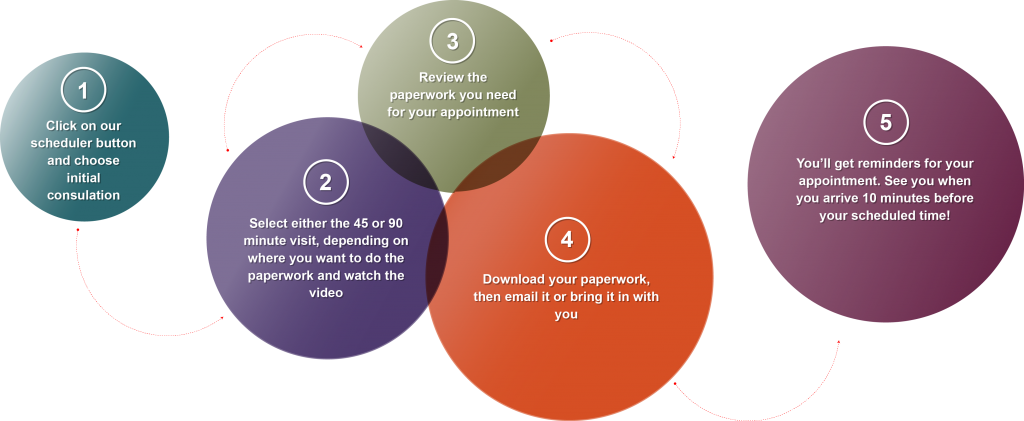 Here's the process:
Your initial consultation is designed to educate you about hypnosis and determine that hypnosis is the best choice for your needs. We will explain how you can start taking advantage of it's life long benefits, how to make the best investment in yourself, and how to get started right away.
Schedule an appointment

You can schedule online by clicking the teal 'schedule your appointment'

By calling us at 952-934-1315

Select either the 45 or 90 minute visit, depending on where you want to do your education and paperwork. Your time with the hypnotist is always the same!

If you complete all of your paperwork, and watch the video before you come into the office, schedule the 45 minute visit
If you want to complete the paperwork and watch the video at the office, then choose the 90 minute visit

Here is everything you need:

Client BOR or Client Bill of Rights for Minors  (you only need to bring or send us the signature page)

You can download your paperwork and bring it with you, or choose the 90 minute visit and fill it out at the office
If you have chosen to watch the video at home you can view it at the bottom of this page
Then you will meet with your hypnotist. You'll have plenty of time to talk about your goals and concerns, and plan your strategy. It's well worth the $75.00 investment to make sure hypnosis is the right modality for you. If you decide to move forward, the $75 is applied to your first visit

We don't put pricing online because each client is different and has specific needs. By the end of the consultation we will have a good understanding of what your issues and goals are, will know if hypnosis is the right modality for you, and we will let you know how many sessions you might need and how much it will cost. We offer packages, as hypnosis is typically not a one-session fix, it is a process
For those who are looking for help with symptoms of a diagnosed condition, (for example, pain, depression, IBS, etc) you will be asked to fill out paperwork at our office so we can get a referral from your doctor or therapist before scheduling your first hypnosis session.
We ask that you arrive 10 minutes before your appointment time.
Hypnosis is not covered by most insurance programs, so for your convenience we accept checks, credit cards, or cash and have payment plans available for most services. That being said, insurance companies have on occasion reimbursed clients for medical referrals, so ask your doctor for a prescription and be persistent with your insurance company.