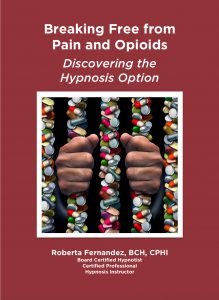 My new pain book is available in the Online Store and on Amazon.com: Breaking Free from Pain and Opioids: Discovering the Hypnosis Option.
If you suffer from chronic pain, this is the book to help you take back control! The Facts: "Chronic pain affects an estimated 100 million people – nearly one- third of our entire population. This is more than those affected by heart disease, diabetes and cancer combined. Seventy-eight Americans die every day from an overdose of opioids. This includes heroin and prescription painkillers like oxycodone, hydrocodone and methadone. Deaths from prescription painkillers have quadrupled since 1999, as have the number of prescriptions for them." (Centers for Disease Control and Prevention) Opioids are the first line of treatment for most chronic pain sufferers. But there are other options that have no negative side effects or issues of addiction. Understanding how the brain processes pain provides the realization that you DO have control over how you perceive it. Studies in neuroscience have shown that the brain cannot tell the difference between what is real and what is vividly imagined. This is why hypnosis is an important addition to your toolkit. Because all hypnosis is self-hypnosis, you can learn to take back control from your pain and manage your level of comfort in the way you want to perceive it. Here are the reasons for using hypnosis for pain management: – No negative side effects – No pills or implanted devices – Minimal investment – Relatively fast results – Self-care – No ongoing expense once the techniques are learned
Fernandez balances personal and client stories, explains how your brain processes pain and provides the scientific research that gives insight into the effectiveness of hypnosis for pain management.