Hypnosis for Medical Personnel
Why  Hypnosis?
Hypnosis for medical personnel makes sense for five simple reasons: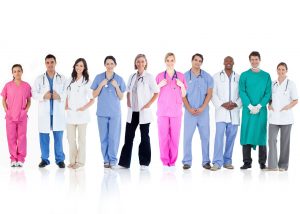 No negative side effects

No pills or devices

Easily implemented

Quick and improved results

Patient self-care

"It's [hypnosis] a very powerful means of changing the way we use our minds to control perception and our bodies."
Dr. David Spiegel

Spiegel holds the Jack, Samuel and Lulu Willson Professorship in Medicine at Stanford University, and has  been researching  hypnosis for 40 years. In July of 2016, his Stanford team specifically isolated the three areas of the brain where neural changes happen in the brain during hypnosis. There are hundreds of reputable scientific studies supporting the efficacy of hypnosis for numerous medical situations. 
How Can Hypnosis Help Your Patients?
Hypnosis is a complement to many conventional medical treatments. Research shows that patients greatly benefit from even short sessions of hypnosis, and in many instances it can be incorporated into established hospital or office protocols.Examples of common uses that have positive results are:
Pain management

Stress

Emergency medicine

Pre/post surgery

Work/home related

Smoking cessation

Weight loss

Sleep 

Fears



Nausea


Childbirth

IBS

Burn healing
How You Can Benefit from Using Hypnosis?
As a medical professional you want to help your patients return to and live a normal, active life. Hypnotic techniques can help you improve patient care by:
Helping you take control of difficult or tense situations
Lessening stress and worry
Managing pain with less medication
Providing important language techniques that instill confidence
Increase patient satisfaction and improve recovery times
Enabling your patients to take responsibility in their own healing
Reducing time and costs in healthcare procedures
Reducing your own stress through relaxation and improved perspectives
Visit our online store today to download our popular workshop
Hypnosis for Medical Personnel
Hypnosis Training
Doctors, nurses and paramedics find that they, and their patients, benefit from using hypnotic techniques and language. It's easy to incorporate hypnosis into your established day-to-day routines at the hospital or office, using the tools of your trade and simple language techniques.
Certification as a Consulting Hypnotist is earned through the National Guild of Hypnotists, the oldest and largest hypnosis institution in the world.
About The FARE Hypnosis Center
The FARE Hypnosis Center is a licensed school in Minnesota. Our modern and comfortable classroom is part of our 2,700 square foot facility in Eden Prairie, MN, and also has office space for four hypnotists. We are dedicated to teaching quality, established curriculum for members of the medical and psychological communities, as well as those who want to start a private practice.
Roberta Fernandez, President and founder of the Center is:
a Board Certified Hypnotist
a Certified Trainer
author of  two books: Breaking Free from Pain and Opioids: Discovering the Hypnosis Option and Your Compass for a Balanced Life
certified in Complementary Medical Hypnotism through the National Guild of Hypnotists
certified In Pain Management from the American School of Clinical Hypnosis
an NLP Master Practitioner
certified as a Hypnotic Gastric Band Surgery Specialist by Anthony F. DeMarco
Contact us for more information on:
specific research or case studies
questions about hypnosis and it's applications
a complementary download of Breaking Free from Pain and Opioids: Discovering the Hypnosis Option
a free recording of a workshop for medical personnel
a free relaxation recording
information on workshops
registering for our hypnosis certification courses
Call Today 952-934-1315
Download the information you need for 2019:
Curriculum Guide
Enrollment Form
2019 Calendar
Required Course Reading
Download the information you need for 2020:
NOTICE: Roberta will only teach 1 NGH certification class in 2020 so don't miss it!
Curriculum Guide
Enrollment Form
2020 Calendar
Required Course Reading