Hypnosis for Weight Loss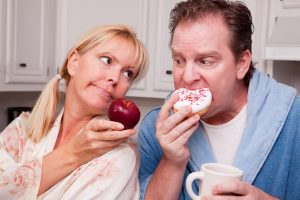 "I have tried many diets over the years in my quest to obtain a healthy weight, so I know a lot about what I should and should not be eating.  My problem was I used food to address my emotions, both positive and negative. Hypnosis with Linda helped me to disconnect food from the emotional support I was seeking which has put me on a solid path towards a healthy weight."     Terri G.
How many times have you lost weight, only to find it again, and maybe even a little more? Using hypnosis for weight loss is different than anything you have ever tried before.
Weight issues are typically 70% emotionally based – from boredom, a traumatic event, and anything and everything, in between. Couple this with some bad habits and using will power (a tool with a short attention span), and it's no wonder that there is no diet in the world that will solve this problem.
A New Perspective
The first law of the mind is Focus – what you focus on expands. So if you are constantly watching the scale and feeling crazy for not having lost a pound, if you are forbidden to eat something and find it's all you really want, if you are obsessively monitoring food intake and counting calories and still feel hungry – guess what will be expanding? Shifting your focus to the solutions rather than the problems is essential for your success in achieving a better body shape and size.
Your Health and your Pocketbook
Of course we all want to look better in our clothes and feel better about our appearance. But health and economic issues are serious consequences when you are overweight. Jus took at these statistics:
 The average obese person spends $200,000 more on life-time health care expenses – important in the world of high deductibles.
Higher disease potential for: type 2 diabetes, heart disease and stroke, high blood pressure, arthritis, and certain cancers
The annual medical spending was nearly $150 billion – nearly enough to fund the US Department of Veteran Affairs.
Vaccines, like the flu shot may not be as effective
Overweight active military personnel cost taxpayers $105 million in lost productivity and $1 billion annually in  obesity related treatments
1 billion additional gallons of gasoline are consumed each year in cars, and many airlines are now requiring 2 seats to be purchased for overweight people
A 2010 study found overweight white women were paid 9% less – equivalent to 1.5 years of education or 3 years of experience
Severe obesity – a BMI of 40 or more)  is estimated to affect 11% of adults by 2030
$60 billion is spent each year on dieting
The FARE Weight Program
Most diet programs focus on restricting foods and eating less. Some focus on exercise. These are important components, however, most never work with beliefs, habits and emotions – all of which are inhabited in the subconscious mind.
Hypnosis is the first critical step in changing the programming in your subconscious mind: Getting rid of harmful words, beliefs, thoughts and images. Then it's time to instill a more positive, healthy, active way of thinking. This is where we work in complementing your diet and exercise programs – helping you stay compliant and motivated.
Next we want to help you change the relationship you have with food. It's not the enemy. It's meant for nourishment and enjoyment, not stress relief, so recognizing the difference between true hunger and emotional eating is important.
Whether you have 20 or 100 pounds or more to get rid of, we have several options to explore to fit your needs. We will provide you with the right amount of reinforcement and support to help you be successful.
Let us guide you in using your powerful imagination to change your internal programming, to create the body shape and size you desire! Call today to learn more about the FARE Weight Program.
Call Today 952-934-1315