FARE Weight Loss Online Coaching
Enroll in FARE Weight Loss Online Coaching Today!
Not everyone has the time, money or ability to come into The FARE Hypnosis Center for one-on-one visits, so we are bringing hypnotic sessions to you in the privacy of your own home so you can listen when it is convenient for you. This powerful weight loss program helps you:
Amp up your motivation
Develop more will power
Change your habits and thoughts
Eliminate old beliefs and rules that keep you stuck
Take back control over your cravings
Every week for 10 weeks
Once each week you'll automatically receive your recording in your inbox, to download and listen to as many times as you'd like (we recommend daily). Each session will guide you through various aspects of  your weight loss journey:
Two Doors
Body

Awareness 

and Habits
The Gifts of Imagination
Keep Your Fire Burning Bright
Emotion Resolution
It's Time to Let it Go
Your Desired Body Size and Shape
Embracing Change
Bringing it All Together
Learning Self-hypnosis
You also receive:
Worksheets
7 recordings aimed at developing will power in your conscious mind for listening any time
A bonus of 3 additional reinforcement recordings to carry you through to your final goal
 That's a Total of 20 Weight Loss Recordings! 
Twenty recordings will help keep your goal front and center, and help provide the tools
for you maintain your desired body size and shape for the rest of your life!
Roberta is a Board Certified Hypnotist and Certified Hypnosis Instructor who is walking her talk. She lost 45 pounds last year following this program and is still working towards her goal. Join her on her journey to better health!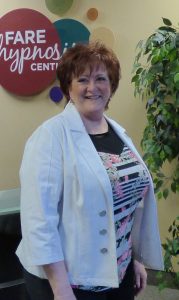 The entire program is
$395 
(Or make 2 monthly installments of $225 each)
Call 952-934-1315 or email with any questions at
Roberta@Farehypnosis.com
Order your program here today!
Please note that your results may be different than Roberta's!